Interview with Clara Mabour (Teacher, InvenTeam Grant Recipient)
Learn about the process of inventing by reading this fascinating transcript of our interview with Clara Mabour, a current teacher, and former InvenTeam grant recipient.
What made you want to begin inventing?
I have been interested in making and problem-solving as far back as I can remember. I started by inventing out of curiosity, and now I invent to solve problems that impact others. Early in my life, I invented games that my friends and I played at school, and I used my broken toys and scraps of fabric from my mom's sewing room to make new contraptions. I have to admit, most of my early inventions did not work, and I still attempted to make new ones. When I succeeded, I was excited, but when I failed, I was thrilled because I loved the challenge. I still have that same charge to invent, and I get excited that someone will be positively impacted by my creation.
Describe one of your early inventions? 
In 2011, as a high school student, I got an awesome opportunity to participate on a team that was awarded a Lemelson-MIT InvenTeams grant. We used the grant to create a portable water sanitation system to be used after natural disasters in tropical regions. The system would provide water to 50 people per day and work by bicycle power. There were two collapsible barrels that fit in an aluminum box, modeled after a pizza box. The device was simple to use and could be easily repaired. Below are the steps one would take to operate the system:
Pour contaminated water through the mesh filter on top of the first barrel to remove particulates
Pedal the bike while the wheels are lifted on a hitch to charge the battery
Run the pumps and the ozonators to move and sanitize the filtered water from the first barrel to the clean water barrel
If the device needs to be transferred to a different location, the users could pack all of the components in the box and attach it to the bike to deliver it to the next location
What was your inspiration for creating this invention?
The portable water sanitation system was modeled to solve the water contamination issues in the relief camps in Haiti following the 2010 earthquake, which devastated the country. Natural disasters cause massive amounts of damage quickly and can harm large amounts of people. Sometimes, people just think of the immediate impacts of natural disasters, but the long-term implications can be deadly as well. As a Haitian-American, I was upset to hear and see that Haitian people were dying from cholera and other water-borne diseases months and years after the initial earthquake. One of my teammates returned from a trip to Haiti and retold her experience of not being able to wash her face with the water because of the bacterial contamination. We were inspired to create the water sanitation system to solve this problem for the Haitian people and aid workers in the relief camps. It can be used in many places around the world to bring clean water to those in need.
What process did you follow to create your invention?
In general, we followed the Invention process. The Spark!Lab Invention Process model looks very similar to the steps my team, and I took to create our invention. At times we moved backward and forward in small loops in this process to make sure we were constantly improving our prototype.
Think it: After a trip to Haiti following the 2010 earthquake, we identified a need to provide clean water to people after natural disasters.
Explore it: Several water purification devices and camping showers were on the market during the initial phases of the project, so we decided to make a miniature water treatment plant that was easily portable and efficient.
Sketch it: We drew many different sketches of our device before we started to construct it. Even in this design phase, we had many changes.
Create it: We gathered our materials and started to build our device. In the process, we learned to use new tools and to measure multiple times before we did any cutting.
Try it: After every stage of prototyping, we had to test the device to make sure the various parts worked as we needed them to.
Tweak it: When they did not work, we went back to the sketch it and/or create it phase. We were in this loop often. Towards the end of prototyping we only had minor changes to make and finally were done.
Sell it: Inventors have to think about how to promote their inventions. My teammates and I created an elevator pitch that we used whenever we met someone new. The speech was no longer than 30 secs, but it had to be impactful and convincing. The water sanitation system is not on the market yet, but I have high hopes that it will be one day.
Did you win any awards/earn recognition for your invention?
My team was one of 15 groups of students chosen from across the nation to receive a Lemelson-MIT InvenTeams grant that year. The program funded the construction of our device and helped connect us to experts in our area. After we finished our prototype, we attended Eurekafest and presented our invention to MIT professors, Alumni, students, and community members. This was a great experience and is still one of the best moments of my life. During the construction of the water sanitation system, my team and I were recognized by The City of Oakland Park and Broward County declared February 14th Northeast High School L-MIT InvenTeam day. In 2013, members of my InvenTeam, Kiona Elliott, and Payton Karr were invited to the White House Science Fair to present our invention to former President Barack Obama. In 2016 they were featured in the November issue of Wired magazine with our device. It has been six years since I worked on the invention and I am still positively impacted by the experience. I am always eager to discuss the device and the science behind it.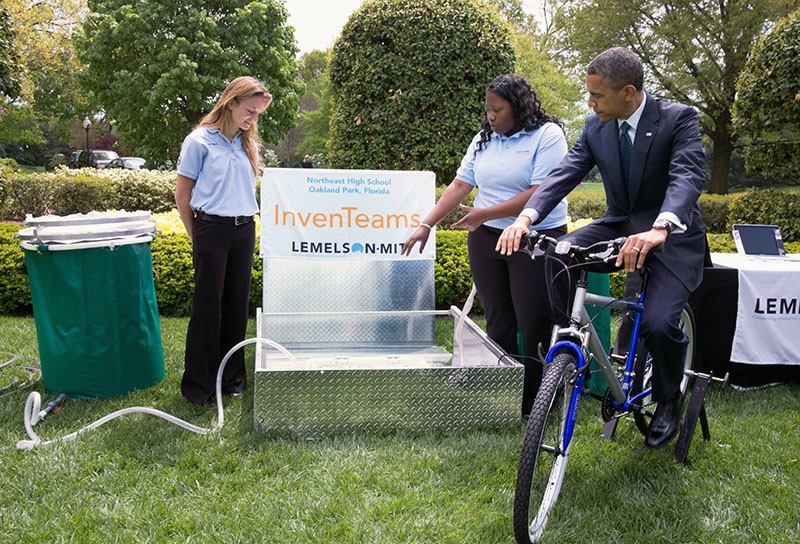 What have you invented since then/have you been working on recently?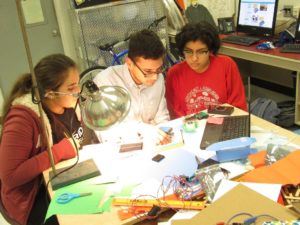 My invention experience did not end with the water sanitation system. Since then, I have worked on personal projects like making homemade hair and skin products for people with curly hair, educational games for my classroom, and many small projects in between. I am now a teacher at the same high school that I attended, and my favorite thing to work on is the project that my current Lemelson-MIT InvenTeam students are creating. I never thought that one day I would have the honor of working at my alma mater or be an educator of an InvenTeam, but my students are my greatest joy. I love inspiring and encouraging young people to invent like my InvenTeam educator inspired my teammates and me. I get to guide them as they go through the invention process to create a device that prevents mosquitoes from breeding in stagnant water in urban areas. They were inspired to create this device because of the Zika epidemic. It can be used in places where there is flooding, like Houston, Texas, Florida, Puerto Rico and the Caribbean islands affected by hurricanes in 2017. The device could be used in many places around the world and possibly help reduce incidents of malaria, dengue fever, and other mosquito-borne illnesses and save many lives. The students on my InvenTeam come from various backgrounds and interests. They are united under the idea of invention and solving an issue that harms millions of people globally each year. They are learning new skills that will help them with this project and beyond. They are learning to use new tools, design, and 3D print, code, work as a team, communicate with the public, think critically, and problem solve.
What advice do you have for aspiring inventors competing in this challenge?
There is no perfect mold for an inventor. You do not have to be a mathematician or an engineer to invent.  Inventors come from all ages, backgrounds, and places. Inventions can be complex or simple. They can be super fun toys and technology, lifesaving medical equipment, strong and efficient construction material, etc. The main requirements are that inventions are useful and unique. When an idea strikes you, explore it and be fearless when approaching the challenge of invention. You have the power and ability to make a difference in your environment/community and the world. The opportunity to solve problems with inventions is around us all the time. Look around you, talk to your friends and family and identify issues, big or small, that you would like to solve, then, INVENT!
There are many issues around the world that need solutions that have not yet been created. We need inventors that are imaginative and compassionate, excited to learn, and ready to create. Tell us about your plan to create an invention that will solve a problem, big or small?