Meet Tricia Edwards and Get Started!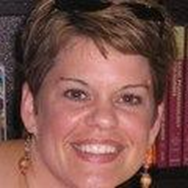 Hello, future inventors! My name is Tricia Edwards. I am the Head of Education at the Smithsonian's Lemelson Center for the Study of Invention and Innovation. This is a fancy way of saying that I get to work with kids like you and help them become inventors! Click here to watch my video introducing the Invent It Challenge.
At the Lemelson Center we believe that everyone is inventive. We work hard to provide fun and meaningful ways for people of all ages—but especially kids—to identify problems and develop creative solutions. Spark!Lab's Dr. InBae Yoon Invent It Challenge is one of my favorite ways we do this. Through the Challenge, I get to work with students and teachers around the world and see all the amazing ways you are trying to make the world a better place.
I am really excited this year to see the inventions you develop to help us prepare for and recover from natural disasters. It seemed like every time I turned on the television or picked up my phone last year there was news of another natural disaster. Wildfires, hurricanes, earthquakes, droughts, and floods caused major damage to the environment, as well as the people, animals, cities, and towns in their pathways. But as sad (and sometimes scary) as these disasters can be, I am hopeful because I know that inventors like you can help us address these big challenges and invent new ways to predict, prepare for, and recover from disasters of all types. If you want to be part of solving these challenges then the Invent It Challenge is for you! Not only will you be helping to address some big problems, you will also have a chance to win some great prizes, including books and magazines, Camp Invention scholarships, and even a trip to the Smithsonian in Washington, DC! To get started, look around you. What's happening in your community? Has your city or country experienced a natural disaster? If not, has something happened in another part of the world that you would like to help with? Talk to your parents, neighbors, teachers, and friends to learn more about natural disasters. You can also check out this
list of resources
we have created. Once you have explored some of the challenges that occur when a natural disaster hits, start thinking about ways you might be able to help solve one of them. Remember—you don't have to solve the WHOLE problem or challenge; you can choose to focus on just a small part of it. Once you have an idea for your invention, you can begin to build a prototype or model of your idea and work through the rest of the invention process. We have created
a guide
to help you understand the process and provide some tips for working through your invention from the "think it" step (coming up with your idea) all the way to "sell It" (sharing your idea with others). If you are like most inventors, you may get stuck or run into a problem while you're inventing. If this happens, reach out for help. Ask your parents, teachers, neighbors, friends or even me for help. We can work with you to get through the trouble spot and moving forward again with your invention. As you get started learning more about natural disasters and thinking about some invention ideas, how do you hope your invention will help people, animals or the environment? Please post your responses below. Happy inventing!